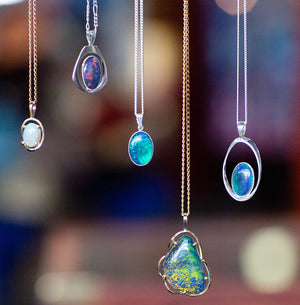 Best Australian Opal Gift Ideas
---
We were the first jewellery retailers in the Queen Victoria Market to start selling Australian opals, hence we are respected for our knowledge and quality of our opal products. 
Loose stones in various sizes and shapes are available instore as well as either solid or triplet opals set in solid sterling silver, 9ct or 14ct gold.  We also have a range of sterling silver and 9ct gold set opal earrings, which we set all the opals into ourselves. The sterling silver opal pendants are all set by us and come with sterling silver necklaces in various lengths.
Due to the changing colours of the opals when they are viewed from different angles, we find it's best to come and visit us at the market. They are best viewed in person, especially if it's for yourself, as they will look different when being worn. If you aren't able to visit us, email or call us letting us know what you are after and we can ship something to you.
Sorry, there are no products in this collection.